LANDSCAPES|PAYSAGES magazine edited by VBD, wins EXCEL awards for general excellence
The Canadian Society of Landscape Architects congratulates Naylor Association Solutions and the Landscapes|Paysages Editorial Board upon receiving two EXCEL awards for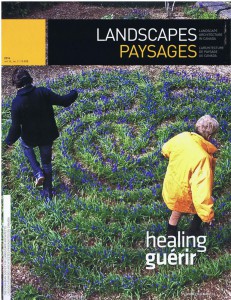 LANDSCAPES|PAYSAGES magazine. At the 35th Annual EXCEL Awards Gala held in Washington, D.C. in June, LANDSCAPES|PAYSAGES received a Gold Award in General Excellence and a Silver Award for Design. Administered by the Association Media and Publishing, the EXCEL awards are the largest and most prestigious award program that exclusively recognizes excellence and leadership in non-profit association media, publishing, marketing, and communications. LANDSCAPES|PAYSAGES is one of the CSLA's flagship programs. Published quarterly, the magazine has a wide national distribution to CSLA members, the public, libraries, members of the federal and provincial governments, and municipalities. (CSLA Press Release: LANDSCAPES|PAYSAGES magazine wins EXCEL awards for general excellence and design)
Virginia Burt of Virginia Burt Designs was a guest editor of this award winning magazine for the edition "LANDSCAPES|PAYSAGES healing, vol.16_no. 2" (2014).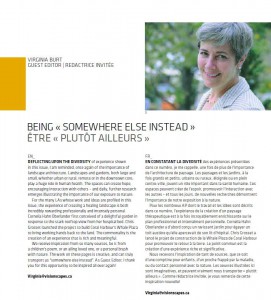 LANDSCAPES|PAYSAGES healing, vol.16_no. 2 (2014)
The demand for healing gardens is sweeping North America.  Read about the pioneering therapies at St. Joseph's in Guelph: five outdoors "rooms" and even a putting green in a progressive therapeutic landscape.
CLICK HERE to view the digital issue including exclusive online material and translations of articles in LP+
About CSLA
The Canadian Society of Landscape Architects (CSLA) is a professional organization with over 1,980 landscape architects as members. As the voice of the profession in Canada, the CSLA is an advocate for its members on issues such as urban design, urban renewal, sustainable development and cultural heritage.
About Virginia Burt
Virginia Burt, FCSLA, ASLA, creates landscapes and gardens of meaning for residential clients, healthcare facilities, and special projects. Virginia graduated with honors from University of Guelph in 1985 and worked in offices in Aspen, CO and Toronto, ON before starting Virginia Burt Designs in 1996. For over 30 years, Virginia's international award winning work has been recognized including recent National CSLA Award of Merit in 2015 and 2014 Palladio Award. Virginia's design work reflects her roots, creating gardens and landscapes that reveal their natural context and reflect those who use them. Clients appreciate and value her deep respect for place and for the human dimensions of each project. Virginia gets things built – beautifully.
Share This