OALA 25 Year Pin Ceremony
At this years 47th Annual Ontario Association of Landscape Architects AGM and Conference Virginia Burt on behalf of Virginia Burt Designs accepted a 25 year pin from the association. The following picture was of the ceremony. Virginia appears with colleagues of the OALA.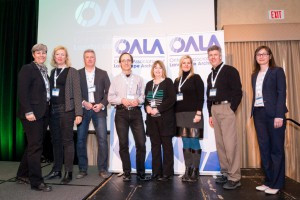 For more information please contact Virginia Burt Designs by email at v@vburtdesigns.com or visit the web site at www.vburtdesigns.com. Virginia Burt's complete speaker profile can be found on the website….Click Here.
About OALA
The Ontario Association of Landscape Architects (OALA) is a self-regulating professional association.The OALA is a component association of the Canadian Society of Landscape Architects (CSLA).
About Virginia Burt
Virginia Burt, FCSLA, ASLA, RLA creates landscapes and gardens of meaning for residential clients, healthcare facilities, and unique special projects. Her love of the land has been a lifetime journey. Having grown up on an apple farm, she developed a passion for being outside and understanding the rhythms of nature. Virginia graduated with honours in landscape architecture from University of Guelph in 1985 and worked in offices in Aspen, CO and Toronto, ON before starting her own firm, Virginia Burt Designs, in 1996. For over 30 years, Virginia's international award winning work has been recognized in the design of healing gardens, labyrinths and sacred spaces. She was recently awarded a national CSLA Award of Merit in 2015 and a 2014 Palladio Award in USA and has been published in numerous magazines and has presented at over 200 conferences across North America. Virginia's design work reflects her roots, creating gardens and landscapes that reveal their natural context and reflect those who use them. Clients appreciate and value her deep respect for place and for the human dimensions of each project. Virginia gets things built – beautifully.
Share This