The Art of the Possible: Cornelia Hahn Oberlander- Making the Modern Landscape
Susan Herrington's new book, Cornelia Hahn Oberlander-Making the Modern Landscape recounts one remarkable woman's fascinating personal journey spanning nine decades and stretching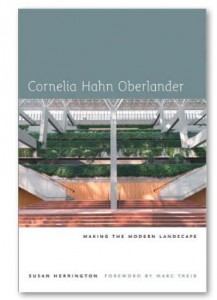 across multiple countries – a personal journey which helped define the evolution of modernism in the context of architecture, landscape architecture and planning. This most treasured Canadian is decorated with the Order of Canada, the highest honour bestowed in our country. Internationally, Oberlander has been awarded the highest honours of both the International Federation of Landscape Architects and the American Society of Landscape Architects. Susan Herrington's biography takes an elegant approach, which juxtaposes history and biography to create an eloquent story of both modern landscape architecture and Oberlander's six-decade career.
As I read the book prior to visiting Oberlander this past summer, I came to realize that her story was something of a personal journey for me. My father recalls me playing as a young girl in the floating dory in Oberlander's famous playground installed at Expo 67. This memory, together with Herrington's thorough research and stories, helped me to understand the depth and breadth of Oberlander's influence. More than a half-century later, she is still touching the lives of children. As I listened to her speak about a recent Arctic project, we viewed an image of a young Inuit girl walking and skipping on a simple raised circle of stone. "It's so simple," Oberlander said in her warm, gravelly voice. "Children want to explore, experience, enjoy…they just love to move."
For the hundreds of Canadian LAs who have personally met Oberlander as I have, and for the thousands who have listened to her speak, it is no surprise that she is completely frank and open about learning from her projects. Early in the book, Herrington captures what may be Oberlander's most characteristic saying: Her work, she believes, is "an evolving experiment…The art of the possible." (P. 8)
Herrington begins the book with a chapter entitled "Identity", in which she explores Oberlander's formative years, in relation to her personal history and world events. Her mother, Beate Hahn, was both a horticulturalist and author who was an early promoter of the literal "garden" in Kindergarten. Author Herrington, who is a professor of landscape architecture at the University of British Columbia, first made this discovery when researching the origins of the kindergarten for another project, and in this book, she includes an actual illustration of one of Beate's drawings colored by young Oberlander. Her parents were immersed in the growth of art and design and Oberlander's best friend lived in a modernist house designed by Erich Mendelsohn. Even at that age, Oberlander admired how the house extended into the landscape with long terraces and perimeter walls of the same materials. Oberlander also learned to tend her own garden, learning about such things as plant companions and species' hardiness. In those early years, we see the promise of Oberlander's view of modernism and her depth of knowledge of plants and ecological processes. She was a young skier in the Alps then, and tellingly, she still skis today, at 93. (Now it is cross-country skiing, however, after she was knocked down by a snowboarder two years ago in Whistler.) Risk-taking, it seems, has always been part of her life, and not just on the slopes. In 1938, her world changed as her mother and uncle's friend guided their family's escape from persecution in Nazi Germany. Courage was essential at an early age. Small wonder that Oberlander's playgrounds have always gone beyond the norm (pushing the limits for insurers) and that she pioneered such "radical" concepts as green roofs.
Oberlander was one of the first female graduates of Harvard's Graduate School of Design. As an early protagonist of modernist design, she was challenged by professors who were looking to the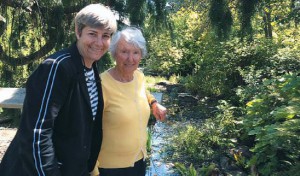 past rather than the future. She had spent years working on her mother's farm in Connecticut, planting and harvesting vegetables and apples, and in her early years as a landscape architect, she championed the social impacts of gardening in urban spaces, creating gardens for public housing and low income areas with the likes of Dan Kiley and Albert Kahn In these years, she formulated her passion for the social possibilities of the designed landscape. And even when some of the early public housing projects failed, they bore the seeds of new ideas: edible gardens, communal gardens, the importance of exposure to nature and social interaction. Many of Oberlander's early ideas are publicized as "new" today.
Oberlander's alliances with architects were pivotal: she worked with iconic figures such as Walter Gropius, Richard Neutra, Arthur Erickson, Renzo Piano and Moshe Safdie among many others. Herrington shows how she pushed their boundaries and extended our professional role as landscape architects. Fellow professionals respected her attention to detail, her research and her understanding of design, drawings and construction processes. She is known for her strong opinions, and is exacting with her words: "We are valuable, we are needed," she insists. "We are more than just bush bringers. In practice, the "Five P" principles have guided her career: patience, persistence, politeness (learned early on) and added soon after, passion and professionalism.
Herrington's new book is a worthy and wonderful read. Oberlander continues to inspire. She still puts in long hours at the office, and shows boundless energy and commitment to family and the environment. I asked her, as she ended our conversation to get on yet another plane, what kept her going, when so many of our senior professionals were slowing down. She laughed as she replied, "The passion for keeping the world green."
By Virginia Burt
As published in Landscapes Paysages (Canadian Society of Landscape Architects) 2015 Vol. 17, No 2. Article: The Art of Possible by Virginia Burt.
Share This