Virginia Burt to speak at 2015 South Carolina ASLA Conference
Burlington, Ontario (September 30, 2015): Virginia Burt will be speaking at the South Carolina Chapter (SCASLA) of the American Society of Landscape Architects  Annual Conference on October 16th, 2015.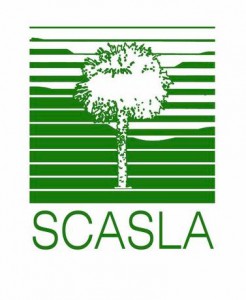 The title of the presentation is "Healing Gardens and Landscapes: From Big Idea to "Eye Sparkling" Detail.
With healing gardens being developed in healthcare facilities across North America, this session will examine what it takes to move from the "BIG idea" to detailed implementation and how "eye sparkling" implementation techniques can encourage development of meaningful projects. Techniques, spaces and materials used in healing gardens will be discussed discovering the ways and means of relating the whole to the smallest spaces. As landscape architects, we affect the experiences of people as they move through spaces – ideally this experience is a positive one of magic and wonder. Come prepared to take a journey of the heart and be inspired.
About SCASLA
Mission of the American Society of Landscape Architects "is the advancement of the art and science of Landscape Architecture by leading and informing the public, by serving members, and by leading the profession in achieving quality in the natural and built environment".
About Virginia Burt
Virginia Burt, FCSLA, ASLA, creates landscapes and gardens of meaning for residential clients, healthcare facilities, and special projects. Virginia graduated with honors from University of Guelph in 1985 and worked in offices in Aspen, CO and Toronto, ON before starting Virginia Burt Designs in 1996. For over 30 years, Virginia's international award winning work has been recognized including recent National CSLA Award of Merit in 2015 and 2014 Palladio Award. Virginia's design work reflects her roots, creating gardens and landscapes that reveal their natural context and reflect those who use them. Clients appreciate and value her deep respect for place and for the human dimensions of each project. Virginia gets things built – beautifully.
Share This